Posted by
Abasi
in
Uncategorized
, tags:
Miami 2011
,
Pete Tong James Zabiela Luciano Richie Hawtin Riva Starr
,
Techno Tech-house House Prog
Friday, March 25.
The main plan for the Friday of our visit was to hit the Pete Tong pool party at the Surfcomber. For some reason, Pete Tong is not on the top of the "must see DJs" for a lot of Vancouverite's I know, but personally, I have a lot of respect for this man. Having an early start to DJing in the mid-70s, he has been a key figure in electronic dance music since the 80s, started and hosts one of the most influential dance music radio programs: The Essential Selection (now renamed) since 1991, and is the founder of the legendary dance label FFRR who launched the careers of many, among them Salt'N'Peppa, with "Push It" as the first release. Yes, he may not be your super technical DJ who takes you on a slowly building journey with lots of knob tweaking, but he knows the music better than most, always has the best tracks and definitely knows how to throw and rock a party.
Each year, he hosts his Radio1 party in Miami, and this was on top of the list of events that Ceebas and I wanted to check out. I was extra excited because Ritchie Hawtin, Luciano, Joris Voorn, and Riva Starr were among the headliners. We arrived half an hour later than our ticket's entry deadline, meaning we had to fork out an extra $30 on top of the $40 price we had already paid for the tickets. By this time we were used to paying through the nose for everything in The Magic City, or more appropriately The Plastic City as it should be called, by the number of scantily clad girls sporting boob jobs we observed everywhere.
By the time we got to the party, we had already missed Joris Voorn, but I was not sad about it, as we got to rock out quite hard to Ceebas' new Man-crush on Thursday night. We walked in, and were greeted by the sounds of Kaskade who happened to be the surprise guest DJ, and a sea of shaved-chest steroid-enhanced guys accompanying the aforementioned girls. The stage was setup facing away from the pool and towards the ocean, with Go Go dancers setup on either set, providing added eye-candy. I can't say I am a huge Kaskade fan myself, but the crowd loved what he was dishing out. Lucky for me, we caught the latter part of his set which ended shortly, and made way for the "DJ/nerd who isn't trying to be cool": James Zabiela. I must say, the extent of my knowledge about him was that he was another breaky-prog DJ, which is not particularly something that gets me too excited. After seeing him at this show however, I can now say I am a bit of a fan (and so are the dozens of girls who were admiring his smile and golden locks). He connected a bunch of additional gear he had brought for the set and started by playing a few minutes of various ambient style sounds to build things up, utilizing an iPad that he held in the air to add effects to the whole thing. His set continued with a mix of tech-house sounds, combined with his classic break and prog influences.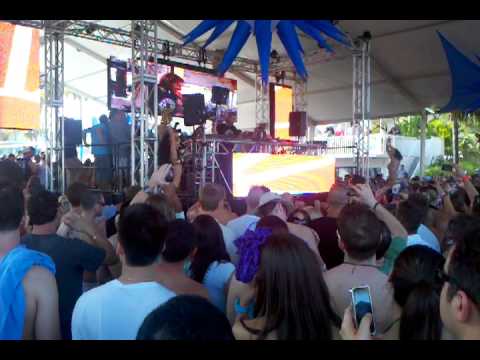 Next up was the Swiss-Chilean founder of Cadenza records, Luciano, whom we had met the previous day through Carl's lovely wife, Hagi at the DJ Mag party. Not being very familiar with his work and only hearing him for the first time, Luciano blew me away with his blend of funky latin infused techno beats, reminding me of the set Ricardo Villalobos played when I saw him @ the Cocoon party in Ibiza back in 2008. I think he was hands down my new favourite DJ of this trip, especially with the set he delivered at the Sunday School party the following day.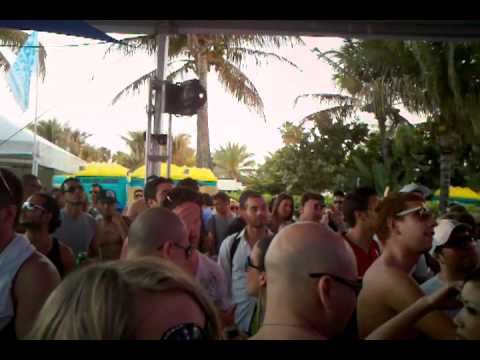 After Luciano's set, it was time for our fellow Canuck, Richie Hawtin. I did not recognize him at first, because it had been sometime since he came to Vancouver, and he had grown his hair quite a bit and was is no longer sporting the same 'do, and also looked to have lost a bit of weight. Richie started with some groovier sounds to ease people into his set, and within a short time, he had the crowd going off to nothing but pure techno, only the way Richie can. I must say, it was awesome to see the aforementioned crowd rock out to techno!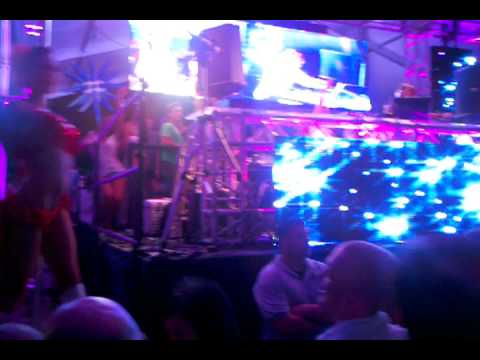 Italian producer, Stefano Miele aka Riva Starr got on next, taking things to a more house influenced direction. My extent of familiarity with Riva Starr's work was limited to his collaboration with Noze: "I was drunk", which has been on my friend Dave Dirk's DJ play list for the last year or so. I would compare his set to what I heard delivered by Joris Voorn the previous night, but Ceebas would beg to differ and one day, he is finally going to make me understand what this groovy bass-line is that differentiates Mr. Voorn. All in all, an enjoyable set, and a great finish to our day. We gathered everyone, including those who had licked the magic frog, and headed for a lovely dinner on the streets of South Beach! Day 4 = EPIC!

Comments Off on Good times in Miami – Day 4 (Friday)